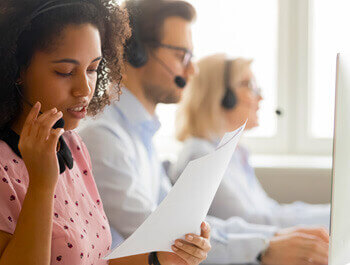 EMCOR's Customer Solutions Center (CSC) is the central nervous system of our facilities operations, supporting over 60,000 facilities and 500 million square feet and processing over 750,000 work orders annually.
Our qualified call center operators are ready to serve you 24/7/365 and are equipped with an expansive database that provides real time diagnostic information with an infinite variety of smart solutions designed to prevent and resolve virtually every kind of facility issue.
Whether it's an emergency commercial HVAC repair call, broken commercial heating system, or a failed electrical distribution center, you can count on our CSC to get our service professionals onsite as soon as possible.
Our CSC combines skilled human capital, best-in-class practices, and the latest technology to improve your facility operations and protect your bottom line.